Category Archives:
Training Center
CONTINUING EDUCATION REQUIREMENTS
Prior to renewal or reinstatement of a Journeyman Certificate of Competence in the applicable classification, the applicant is required to complete a minimum of sixteen (16) hours of approved course work. Proof of completion of such course work, in a form satisfactory to the Construction Industries Division (CID) must be submitted with the application for renewal or reinstatement.
A minimum of eight (8) hours of approved course work must cover the current CID code that is enforced by each Journeyman Classification to be renewed of reinstated. Please see the License requirements below.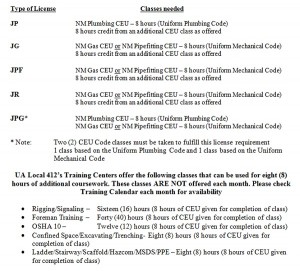 For a list of New Mexico State Construction Industries Division approved CEU Courses
Mailed Copy – Call the Training Center @ 505 256-9257
Go Online –
Home Page – http://www.rld.state.nm.us/
Click – Construction Industries & Manufactured Housing Division
Click – Mechanical Plumbing on left side bar
Click – Forms and Applications
Under Continuing Education click – CEU Approved Course List
The following are the rules for CEU's and working out of state:
~ You can get a 6 month extension to get CEU's from expiration date of license but you have to get your CEU's in that time frame or you have to retest.
~ CID has approved courses on their web site
~ Go to NM CID
~ Click on the New Mexico Regulation and Licensing Department Tab
~ Click on the Mechanical Plumbing Tab
~ Go To Forms and Apps
~ Go to CEU Approved Course List
~ You will have to go online to an approved testing agency like Construction Seminars
~ Once you have your 16 hours then you can renew your license as long as your license has not expired or you meet the above criteria for extensions
~ You can print your renewal form for your license at psiexams.com
Go to the download forms and instructional documents
Go to Journeyman renewal form
You can print form from this page
This form has mailing instructions on it
~ Mail completed form with your proof of CEU's. *Make sure you have form notarized!
~ There are approved on line courses available through Construction Seminars
~ If you are past your original date to renew your license then you will be charged an additional $25.00. You must renew within 6 months past expiration date of license or you will have to retest!!!
~ If you follow the above steps you should be able to get your license renewed.
If you have questions, call NM CID and they will be glad to help you.
Their number is:
505.222.9800 NM Construction Industries Division