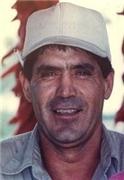 1955 – 2015
David Chavez, the Los Lunas Chile Farmer, went to be with his Boss, Jesus Christ, in the early morning of Wednesday, April 29, 2015 surrounded by his loving family. David was a hardworking man with a passion for farming and ranching. He took great joy in growing his tasty green chile and raising his cattle. David gave all credit to the Lord for his beautiful gardens. He will be greatly missed by his family and many friends. 
He was preceded in death by his parents, Delfino and Viola Torres Chavez. 
David is survived by his loving and dedicated wife of 38 years, Teresa Chavez; and his four loving and caring children, Christina Vallejos (Alex), Matthew (Leandra), Greg, and Liz Autry (Kyle); his pride and joy were his grandchildren, Joseph, Charissa, Sophia, Mateo, Uriah, and Baby Kameron. 
All services will be held at Calvary Chapel New Harvest Christian Fellowship in Los Lunas on Saturday, May 2nd beginning with a visitation at 9:30 a.m. with a Funeral Service to be held at 10:00 a.m. His final resting place will be near his ranch in Golden, NM. – See more at: http://www.legacy.com/obituaries/abqjournal/obituary.aspx?pid=174768292#sthash.1VDcuVsl.dpuf