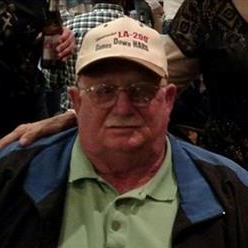 Garry Tolbert, 74, of Peralta, NM, passed away Friday, June 21st, 2019.
A memorial service (Celebration of Life) will be held on July 12th, 2019 at the Belen Sheriff's Posse at 7:00p.m.
Garry was born on January 28, 1945 in Albuquerque, NM to Cecil and Jean Tolbert . He graduated from Valley High School and attended New Mexico State University. He married Sharon in 1964 and they were married for over 54 years. He worked as a pipe fitter and welder and retired in 2007 from the Local 412 Union. He enjoyed hunting, fishing, rodeos and spending time with family and friends. Garry was a very loving husband, father, son and brother.
He is survived by his wife, Sharon Tolbert of Peralta; two daughters, Renee Tolbert of Albuquerque and Robbie Harter and husband Dan Harter of Amarillo, Texas; one son, Lance Tolbert and wife, Donna of Belen; five granddaughters, Kayla King of Tularosa, Bryonna Klunker of Belen, Jesse Andrews of Peralta, Karlie and Katie Harter of Amarillo and one grandson, Cody Harter. One niece, Jan Stearns Rael of Atlanta, GA and one nephew, Mike Stearns of Amarillo, TX. He was preceded in death by his parents, Cecil and Jean Tolbert and his sister, Gayle Stearns.
The family suggests in lieu of flowers, donations in his memory be made to Horsin' Around Therapeautic Riding Center.
Arrangements entrusted to:
Riverside Funeral Home of Los Lunas
820 Main St. NE
(505) 565-1700