Dale Hunt (1932 – 2016)
Dale Hunt was born on July 20, 1932, in Madison, S. D., and passed away on Friday, Feb. 26, 2016, after battling cancer for several years. He is survived by his wife of 60 years, Rinelda (Randy) Hunt of Flora Vista; sons, Steven Hunt and wife Janet, of Longview, Texas, Doug Hunt and wife Teresa, of Farmington; daughter, Patsy Langlitz and husband Leonard of Albuquerque; and five grandchildren, Brian Hunt, Kyle Hunt, Curtis Hunt, Christopher Langlitz and Shayna Langlitz. He was preceded in death by his parents, Walter R. and Erna Hunt; brother, Harlan Hunt; and sister, Ardyce Bookout. Dale graduated from General Beadle High School in Madison in 1950, enlisted in the U.S. Army and served during the Korean Conflict. Dale married Rinelda on Feb. 16, 1956, and moved to New Mexico in 1958 to work on the Navajo Dam Project. Following completion of the Navajo Dam, Dale worked in various jobs until he started his own oil field welding company. Dale was a devoted fan of both his children's and grandchildren's sports activities, traveling across the Southwest to watch them participate. He was also a huge NASCAR fan. His family and friends will remember him for his quick wit, corny jokes, and "true stories that were hard to make up."
There was a visitation from 5 to 7 p.m. Monday, Feb. 29, at Cope Memorial Chapel of Farmington.
Services for Dale Hunt of Flora Vista will be held at 10 a.m. Tuesday morning at Cope Memorial Chapel of Farmington with interment to follow in Memory Gardens. Pallbearers will be his four grandsons, Brian Hunt, Kyle Hunt, Curtis Hunt, Christopher Langlitz and friends Jim Madwell, and Wayne Mangum.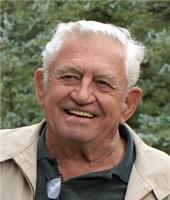 Dale's care is entrusted to Cope Memorial Chapel, 404 W. Arrington St. in Farmington, 505-327-5142. Those who wish to express their condolences may do so at serenityandcompany.com.
Funeral Home
Cope Memorial Chapel
404 West Arrington Street Farmington, NM 87401
(505) 327-5142
Published in Farmington Daily Times from Mar. 1 to Mar. 8, 2016