Dale White Sr, 100, passed away Friday, January 12, 2018, at his home in Roswell, NM. There will be a Graveside Service on Wednesday, January 17, 2018 at 11:00 AM at South Park Cemetery under the arrangements of Anderson Bethany Funeral Home and Crematory. Please take a moment to share a tribute in memory of Dale with his family in the online register atwww.andersonbethany.com.
Dale was born on September 3, 1917 and celebrated 100 years, on September 3, 2017. He worked as a farmer in the Dexter area in his younger years and retired as a plumber after 60 years with Local Union 412.
He is proceeded in death by his parents, Osie Lee and Henry Alonzo White; his wife, Eudell; 2 daughters: Gale McKee and Myrna White; seven sisters and four brothers.  He is survived by two sisters: Margaret Garrett and husband, Bob, and Bobbie Gumm, and husband, Dynamite, three sons: Dale Jr and wife, Barbara, Larry and wife, Vera, Robert and wife, Wanda; five daughters: Evelyn Stanfield and husband, Charlie, Barbara Heine and husband, Fred, Lena and husband, Kelly, Carrie and husband, Brad, Zula and husband, Harold, and son in law, Lanny McKee. He had numerous grandchildren, great grandchildren, great-great grandchildren, nieces and nephews.
The family would like to thank Kindred Hospice for their care and support.
He will be greatly missed by his family and friends.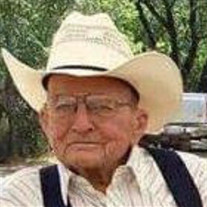 Dale White Sr.
September 3, 1917 – January 12, 2018
Dale's family lovingly wrote this tribute in his honor.