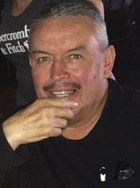 On Wednesday, March 15, 2017, after 59 years, the loving and fun-filled life of Ernie Salazar quietly came to an end. Ernie patiently waited and pursued the love of his life Josie and throughout a beautiful 37 years of marriage they remained inseparable. Amongst a life of love and laughter together they raised two daughters, Tara, and Stacy. Ernie was a generous man both with his money and his time. Ernie devoted his life to his family, which included coaching his daughters in sports, barbecuing on the weekends, waking up early to cook breakfast for his wife, and traveling. Ernie has amassed an abundance of friends throughout his 59 years in which he has shared his love for the Dallas Cowboys and horse racing. Ernie was well known for his social nature and infectious laughter. He was his family's rock and his friend's life of the party. Ernie loved his immediate and extended family deeply and his caring and kindness for friends was heart felt. Not only was Ernie a loyal family man but also loyal to his employer Grant and Associates for 37 years as a Plumber's Foreman. In his retirement, Ernie enjoyed the simple things in life by visiting his daughters, remodeling his house, and ultimately being the best husband for his wife. The family gives thanks to all who touched Ernie's life, and thereby touched ours.
Ernie is preceded in death by his beloved grandfather, Tircio and grandmother, Ignacita Lopez; his uncles, Isias and Jerry Lopez; and his wife's father and mother, Jose and Sarita Leyba. He is survived by his wife, Josie; his daughters, Tara and Stacy; and his beloved dog Pampers; his parents, Andrellita and Herman Madrid; sisters, Connie (Juan) Madrid, and Laurie Vigil; his brothers, Herman (Erica) Madrid Jr. and John (Amanda) Madrid. He leaves behind his cherished aunts, Domi Ulibarri, Lorraine Abeyta, and Virginia Lopez; and his dearly loved nieces, nephews, cousins, the Leyba family, and countless friends.
A Rosary followed by a Memorial Service will be held Friday, March 24, 2017, from 5:00 p.m. to 7:00 p.m. at FRENCH – Wyoming. A Funeral Mass will be held on Saturday, March 25, 2017 at 10:00 a.m. at Risen Savor Catholic Church, 7701 Wyoming Blvd. NE in Albuquerque, NM. Honorary Pallbearers are Ronnie Ulibarri, Ted Ulibarri, Eric Lopez, Ray Madrid, Ronaldo Ulibarri and Nathan Madrid.
FRENCH – Wyoming
7121 Wyoming Blvd. NE
(505) 823-9400