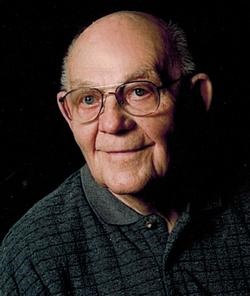 (March 1, 1926 – September 8, 2014)
Lowell Brockmeier, 88, of Clovis, NM died Monday, September 8, 2014 at Plains Regional Medical Center. Services will be held at 11:00 am Tuesday, September 16, 2014 at St. James Episcopal Church with Father Alan Brockmeier officiating.
Lowell was born March 1, 1926 to Elmer and Marie (Abels) Brockmeier in Forreston, IL. He married Barbara Lang July 26, 1947 in Grand Rapids, MN and they came to Clovis in 1984. He served in the US Army during the Battle of the Bulge from 1944 to 1946. Lowell worked for Heights Heating and Plumbing and was a member of St. James Episcopal Church. He enjoyed raising racing pigeons and black angus cattle in Fort Sumner, NM. He was a master plumber and gas fitter.
Survivors include his wife, Barbara Brockmeier of the home; son, Alan (Suzanne) Brockmeier of Clovis, NM; two daughters, Karen Manley of Clovis, NM and Joann (Brian) Baldwin of Albuquerque, NM; four grandchildren, Deedra Brockmeier, Curtis (Halley) Manley, Christopher (Lindsey) Baldwin, and Erin Baldwin; and three great-grandchildren, Emma, Elly, and Evelyn. He was preceded in death by his parents, two sisters, and a brother.
Memorial contributions may be made to St. James Episcopal Church Memorial Fund, 1117 N. Main St., Clovis, NM 88101.