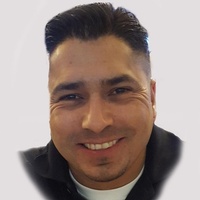 January 15, 1975 – April 06, 2018
On Friday, April 6th Mark Parras, husband, father, grandpa(papa), brother and uncle, went home to be with the Lord. Mark will be remembered forever by his wife and best friend Julie, his girls, Julianna Duran(Gabriel Salcido), Reyna and Marisol, his grandchildren Bubba, Elario, Anneliese and Mateo, his mom Lydia Parras(Hector DeLuna) his sister Flory Rivera(Jimmy Rivera), his brothers Chris Parras Jr.(Dina) and Robert Parras(Virginia) and his mother in law Deborah Serna. Mark will forever be missed by his nieces and nephews. He was preceded in death by his father Cristobal Parras, Sr., his maternal grandparents Apa Julio and Ama Grande Reyna and paternal grandparents Regino and Sofia Parras.
A viewing will be held on Thursday, April 12th at 1:00 pm, followed by a prayer service at Newsoul Church, 7311 Glenrio Rd. NW, Albuquerque, NM 87121.
After the services his family will be taking Mark home to his final resting place in Bishop, Texas.
Visitation
Thursday, April 12, 2018
1:00 PM New Soul Church
7311 Glenrio Rd. NW
Albquerque, New Mexico 87121
Funeral Service
Thursday, April 12, 2018
2:00 PM New Soul Church
7311 Glenrio Rd. NW
Albquerque, New Mexico 87121
Direct Funeral and Cremation Services
http://www.directservicesabq.com/obituaries/print?o_id=4748480