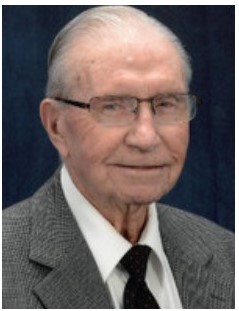 Winford L. (W.L.) Walker, age 91, a resident of Rio Rancho, NM, passed away Friday, February 10, 2017. He is survived by his wife, Audrey L. of the family home; daughter, Marsha J. Kirby and husband, Jack of Colorado Springs, CO; son, Gary L. Walker and wife, Cindy of Phoenix, AZ; step-daughter, Sandra B. Byer and husband, Randy of Corrales, NM; step-son, Steve W. Smith of Corrales, NM. He leaves three loving grandchildren, William Byer and wife, Rene, Kathryn B. Ortega and husband, Sam, and Buffy M. Keahey and husband, Brad of Gilbert, AZ; and six great-grandchildren who lovingly called him "Papa" – Kyle, Ryan Byer, Ariel, Eric and Ashlea Ortega, and Zac Keahey; and great-great-granddaughter, Charlea Ortega.
Born November 27, 1925 at Talmo, GA, to Irwin A. and Doris Walker, Winford was the 11th of 12 children and he outlived them all. W.L. was a proud veteran of WW II serving with the U.S. Navy and stationed at Perth, Australia for 16 months and then he spent eight months in Cape, Australia. A member of UA Local 412 Plumber's Union for 70+ years, he retired in 1987 after 42 years working in construction and repair plumbing. He enjoyed bowling for a number of years and held a life membership with the Good Sam's Campers club spending many years camping with families and friends of the IOF Campers and Desert Drifters Campers.
Memorial Services will be held Tuesday, February 21, 2017, 10:00 a.m., at FRENCH – Wyoming. Ennichement will take place at Santa Fe National Cemetery. Should friends desire, memorial contributions may be made to a veterans organization of their choice.